LET'S TALK ABOUT C-19 IN OUR COMMUNITY!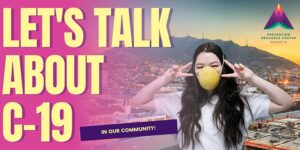 Let's talk about strategies to help deal with stress and anxiety caused by the Covid-19 pandemic!
About this event
Even though the pandemic seems so 2020, we're constantly reminded that it unfortunately might be here to stay. The Prevention Resource Center Region 10 has compiled a list of informative speakers to highlight the current medical, educational, and therapeutic aspects of the pandemic in 2022, as well as tips and tricks from the experts themselves.
This mini conference will include speakers with diverse backgrounds in health care, mental health care, the education system, and the data analytical side. Speakers include Armando Ganua nurse BS, RN at DSHS, Jesus Campos licensed LPC therapist from Aliviane, Head of Counseling Manuel Castruita and Counselor Patricia Macias at EPISD, and Michelle Millen, M.A., Data Coordinator at Aliviane.
Join us for a like-minded discussion regarding the future of our borderland community!